How excited I was!  Invited to be a guest on a podcast….just out of the blue!  A LinkedIn connection who was following me reached out and said he'd like to interview me on his podcast.    I was super excited!  I've only listened to podcasts, learning much and enjoying lots.   But me…with my "southern" voice?  Was he for real?  Had he even HEARD my voice?  The answer was no, he hadn't!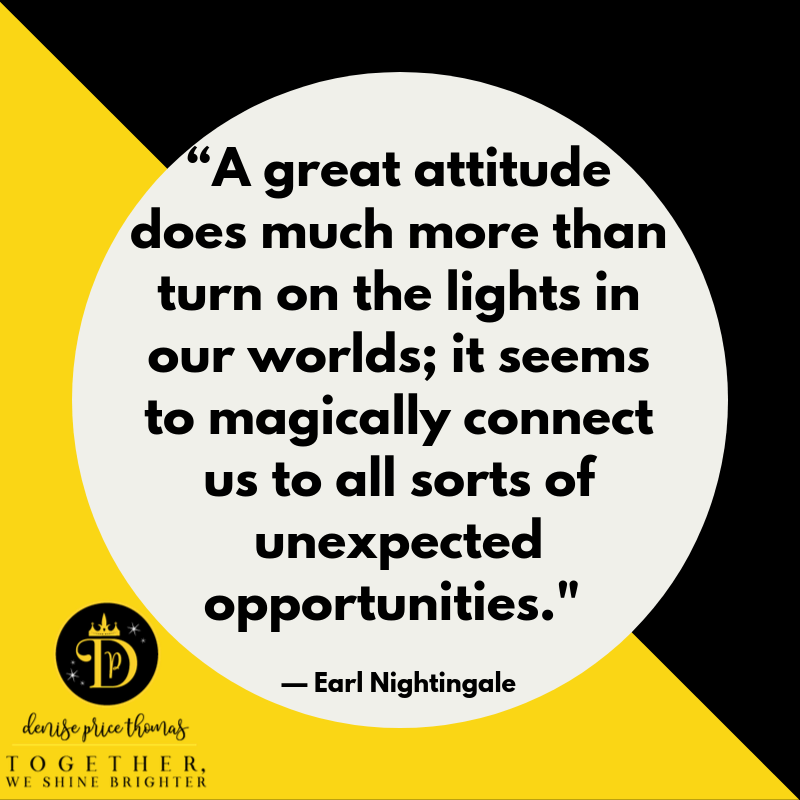 As soon as the date and time were agreed upon via email, I began my search, wondering just what I would need to sound professional. I watched youtube videos until the wee hours of the morning. So much so that I felt like I KNEW these people personally.
Well, because I want to be my very best at whatever I am doing, I ordered a microphone for my laptop. Thank you Amazon Prime! I wanted to sound professional, not like a Southern Belle speaking from a bathroom stall! "Hand me that paper, would ya?"
The microphone arrived the day before my interview. I was thrilled….a REAL microphone! I've always loved microphones, in fact, when I was little….I pretended the living room was my stage, I lined my baby dolls up on the sofa and I opened the curtains, performing for all drive by vehicles on Davis Park Road. You're welcome.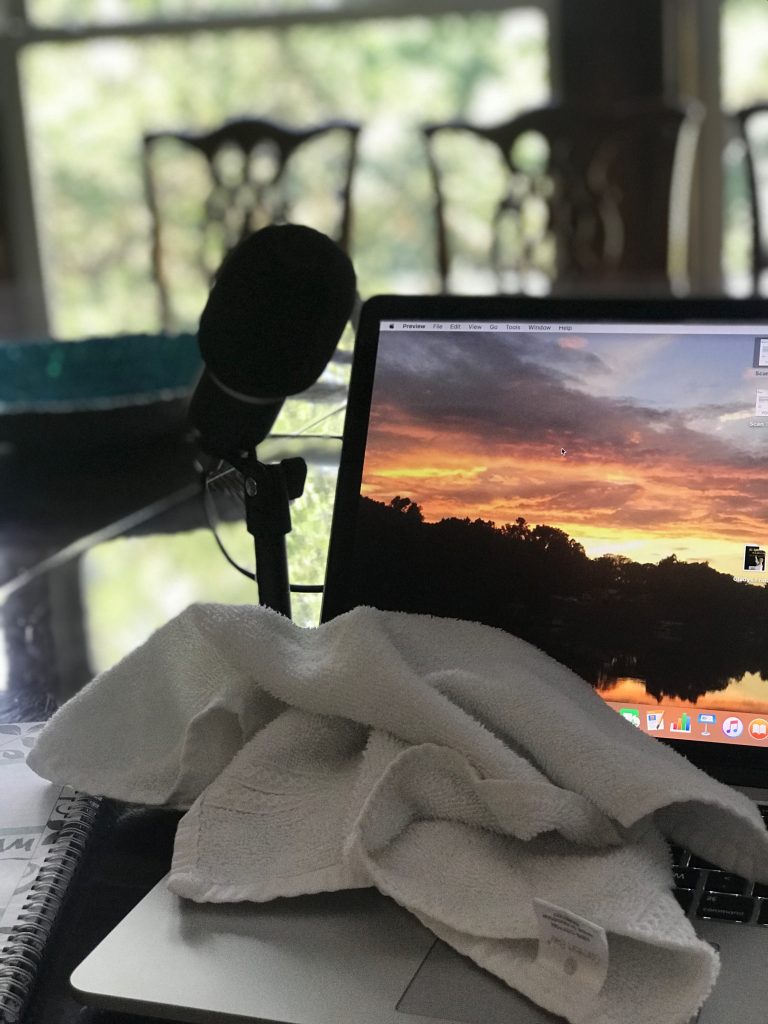 The microphone was plugged in….now what do I do? Where does the phone call come through when he interviews me? I have absolutely no clue but I will say but my MacBook Pro looked very nice with a microphone plugged in to it. She looked snazzy!
At 2 am, I decided if I were to be interviewed at 11 am, I'd better get some sleep. I mean, snoring certainly wouldn't sound good. Then, it dawned on me….WHAT do I wear? What if it's like Facetime….will they SEE me? I decided to wear my white blouse but then what about my hair, should I wear it up or down? Oh my…my head was spinning. I decided I couldn't fix one thing but I needed sleep. Confident that I would learn more in the morning as he promised to chat before taping the podcast.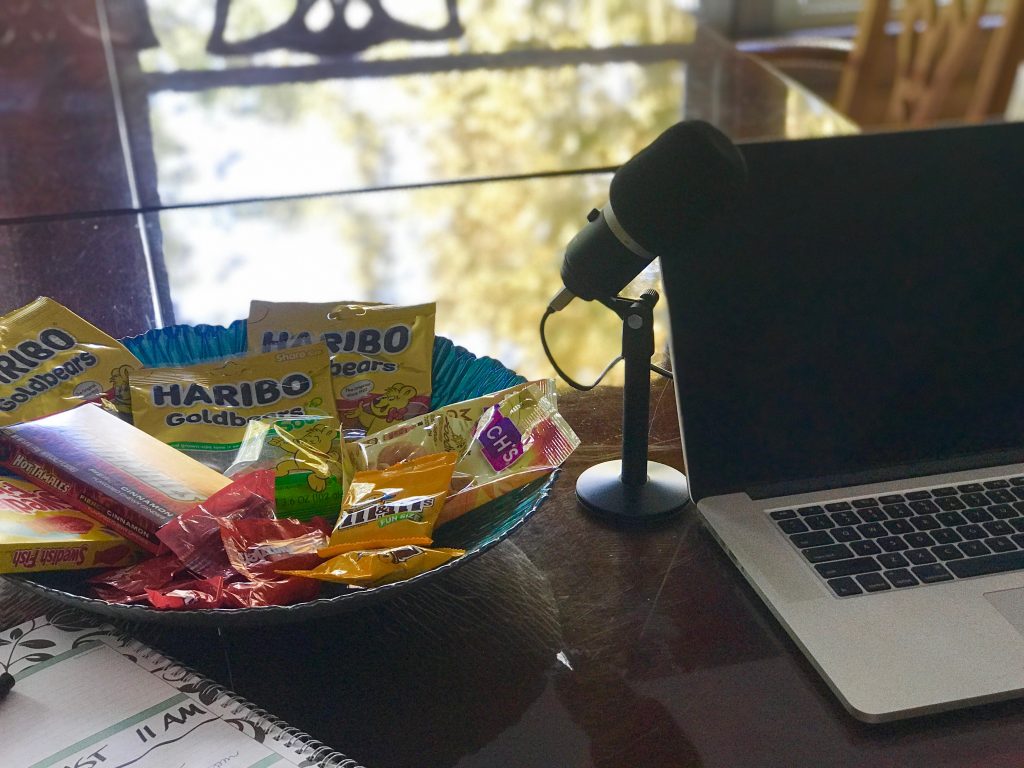 Early morning, I was wide awake, anxious, excited and nervous. At one minute until the scheduled time, my phone rang. He was right on time. "Denise, this is Lawrence Laganelli, how are you today?"
My smile must have been as wide as my face as I responded and then…..his voice cut out and I heard nothing. I thought to myself…."oh no, he heard my voice and decided he'd better back out while he could!" But then the voice came back….but his words were cutting out. Mine were too. After several attempts from my upstairs office, MacBook Pro, microphone sitting there looking pretty & professional….I decided to try another location. He said he would call me right back. So, I carried the computer downstairs, juggling the microphone and cord, not yet sure what I am to do with any of it but I certainly planned to find out. I decided to set up office on the dining room table. It's the center of the house so I thought surely that would work.
Phone rings, it's Lawrence (perhaps it wasn't my voice afterall). "This is much better" he said. Within one minute, the same thing began to happen….he couldn't hear all of my words nor could I hear his. That's pretty important, ya know, when there's an interview going on. I carried the phone, computer and mic BACK upstairs, trying the other side of the house. It was still cutting out.
Lawrence had a great idea…."do you have a landline?" I responded and gave him the number, asking him to give me a few minutes before calling since I had gone back upstairs to find a spot that might work, it hadn't either. There are many steel beams in our home so it can be challenging at times. I realized just how long it had been since I've used the landline……like years! I literally had to FIND it! (see photo…and please don't judge) Keep in mind, my husband is a self employed contractor, he's been building houses since 1957 and he keeps LOTS of information in his head…..and all over his desk…that I cannot touch!
I FOUND IT! Apparently I'm not the only one in this house who hasn't needed to use the landline in quite some time. So I awaited Lawrence's call. Here we go…..the landline is ringing! Sounds really strange, ya know?
Once again, the conversation began sounding clearly and then turned choppy once again. I was literally about to throw in the towel, there sits my computer, my NEW microphone and nothing is working….not even the landline! I did not know what to do….but then at that moment, I saw the bowl of candy…..and my smile returned as I ripped open the wrappers. I had an idea. I said, please give me a couple minutes and let me take my phone to the car, I'll sit in my driveway…that should work! He said we'd certainly try. This nice gentleman had NO IDEA what he had gotten himself in to when he invited me via LinkedIn to be interviewed on his podcast. I was literally running outside and wondering if he'd even call back.
Once in the car, I waited and waited…..and waited as I literally stared at my phone. I wondered what could be taking him so long to call me back. Perhaps he wasn't going to. I mean, can you blame him? THEN….it hit me….I had my PHONE on DO NOT DISTURB!
I corrected that and the phone rang immediately! I had 3 missed calls….because he had attempted to call me three times! History had a way of repeating itself so our connection was still not working. He said, this just wasn't going to work and suggested we reschedule for the next day. I was out of breath anyway so that was good news. Once again, I found myself wondering if he would call back.
The next day I was determined this was the day it would work. I had a business meeting scheduled for 1 pm and this interview was scheduled for 11 am. Not knowing how long the interview would take, I drove Downtown Belmont and found a perfect parking spot. Making certain my phone was NOT on Do Not Disturb, I took a deep breath….in and out….in and out. "Just be yourself" I reviewed the advice & encouragement that had so nicely been shared with me. All of a sudden, the train began to blow it's whistle coming through town.
This won't work, I thought. What if it comes while he's interviewing me. I left my nice parking spot overlooking the beautiful Stowe Park where I danced as a little girl and I headed to another spot. I pulled in to a parking place at the beautiful First Presbyterian Church, Downtown Belmont under a big shade tree. A friend was coming up the sidewalk, saw me and headed toward me. I waved and quickly pulled out of my spot as the adventure continued.
The grocery store it is! I will pull to the corner spot facing the trees so as not to be distracted by people walking by. I found my featured mobile office of the day. Me, my cell and I….that was all I had. No notes, no microphone, no MacBook Pro….just a plan to be myself and speak from my heart.
Right as the clock struck 11 am, my phone rang, I took a deep breath and with that I said, "Hello?" and heard "Hi Denise, this is Lawrence Laganelli, how are you today?" HE HAD CALLED ME BACK, just as he had promised! What a guy! So patient, so kind, so understanding, so helpful and he never once made me feel like I didn't have my stuff together. It worked without a glitch….and there was even a surprise visit from "Gladys Friday" ~ my alter ego!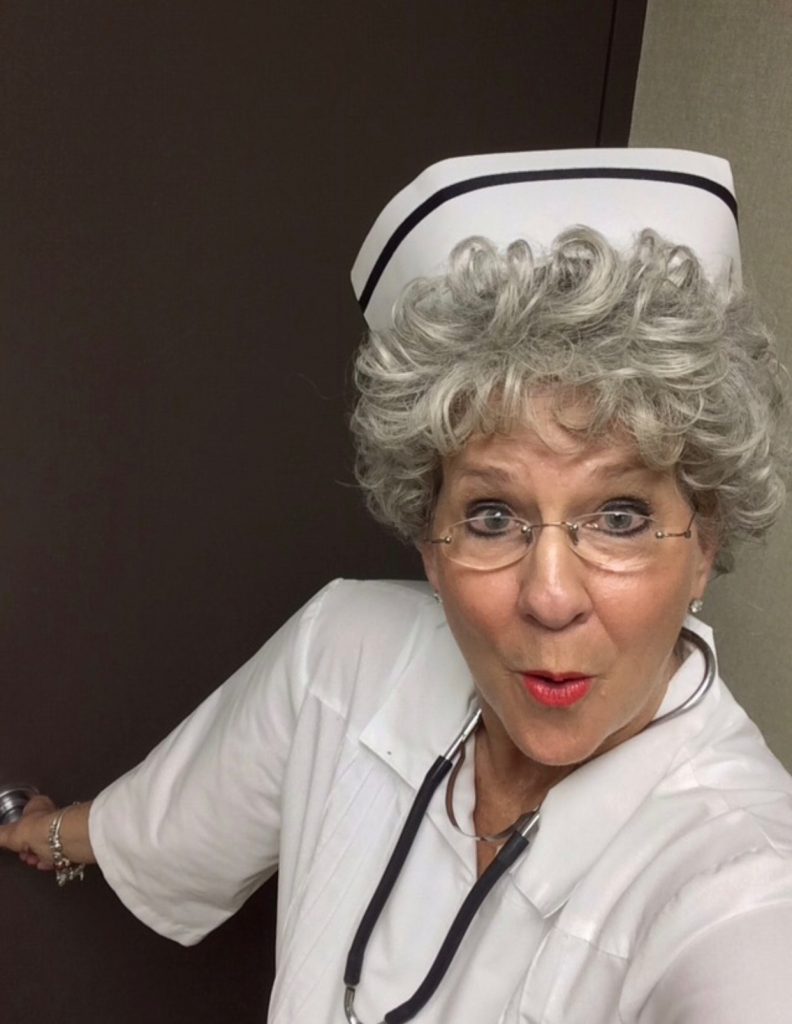 I cannot say enough about how happy I am that Mr. Lawrence Laganelli was the one who reached out to me for my very FIRST Podcast Interview….one that neither will forget!
Humor ALWAYS makes it's way to me, I've learned to embrace it with arms wide open. Just me, my cell & I.